Press release: Automotive Production Plant Liquidations
Unique opportunity to own 5 complete working automotive industry stamping presslines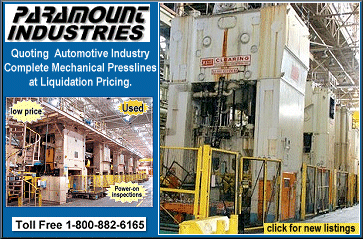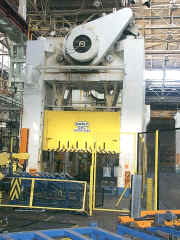 A major automobile manufacturer has contracted with Paramount Industries to liquidate all, or partial lots, of one of their local Detroit production plants. Power-on inspections now taking place for 10 major presslines of varying capacities, and all miscellaneous metal stamping equipment in this plant. This is a once in a lifetime opportunity to buy well maintained working metal stamping presses for pennies on a dollar invested by a big 3 auto manufacturer. Clearing, Bliss, Version, Danly stamping presses from 2000Ton to 400 ton capacities, with all OSHA inspected safety gear, controllers, conveyers and roll feeder equipment included. Click here to see all this automotive plant liquidation listings, photos and spec sheets.


Danly, Verson, Bliss and Clearing used automotive metal stamping presslines for sale a liquidation prices.
Paramount Industries is pleased to announce this opportunity to place a bid on all, or part of this Big 3
stamping plant liquidation, which can be shipped worldwide. Location inspections in Detroit MI.
Don't let these 2 Straight Side DANLY & CLEARING large Bed stamping presses get away. These have full Cushions, front to rear Bolsters, PLC controls, and more.... all meeting OSHA safety requirements. Power on inspections arranged. CLICK HERE for details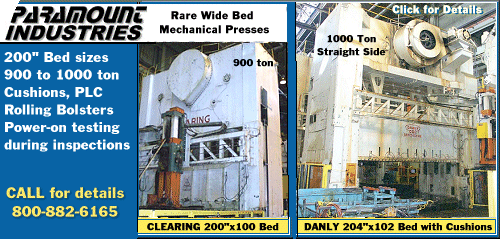 900 to 1000 ton Used Straight-side large Bed Mechanical Presses for sale
Danly Model S4-1000 QDC 204x102 and Clearing Model F-4-900-QDC 200x100 bed
Ted Gillespie -Paramount Industries President

home page: http://www.equipbrokers.com
Paramount Industries
19824 Chalon
St Clair Shores, MI. 48080
1-800-882-6165