in on Photos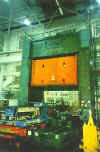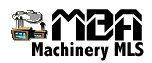 Capacity: High Tonnage Pressing: 500 Ton
Low Tonnage Pressing: 140 Ton - Stripping: 173 Ton
Lifting @ Rapid Return Speed: 25 Ton Net
Platen Area R-L x F-B 144" x 96"
Size of Rolling Bed Bolster 144" x 96" x 10" High
Length of Rolling Bolster Rails 112"
Distance Floor to Face of Bolster 10"
Daylight over Bolster 114" - Slide Stroke 54"
Main Ram Diameter 18" x 14-3/4"
Number of Main Rams 1
Kicker Ram Diameter 8" x 6-1/4"
Number of Kicker Rams 2
Platen Speeds:
Rapid Traverse Down 500" per Minute - Low Tonnage Pressing 8" - 84" per Minute - High Tonnage Pressing 3" - 24" per Minute
Stripping 7" - 69" per Minute - Rapid Return 215" per Minute
Call for more Photos
Fill out the below for for
more information on this press..
The following specifications apply to this press:
---
Pumps - Oilgear (1) PVLVKR-075-NNA-ZN/G
Press Frame to consist of top Platen and Base of Steel plate, welded construction. The base of Press bed to be furnished with openings for three externally guided cushions. No Cushions are to be Included. Maximum calculated deflection of .002" per foot when uniformly loaded over two-thirds of span and subjected to full tonnage. Housing type construction with hydraulic nuts.
Slides of Steel plate, welded construction with 8-point gib guiding. The ways of slide or gibs are to be furnished with renewable nonmetallic liners. Housing to be fitted with hardened and ground steel liners. Base of slide to be furnished with a series of 1" T-slots running front to back on 6" centers. Furnish slide safety locks, ratchet tooth type on 4" centers. Air actuated automatic lubricating system.
Furnish (3) fabricated steel double acting cylinders. Oil collector system with scavenger pump. Furnish 10" thick moving bolster with 1" T-Slots running front to back on 6" centers. Bolster to be powered by (2) air driven Motors. External rails are to be supplied and attached to the Press bed. Rails to be furnished with hardened liners. Movement of bolster controlled by push buttons for Sol. 4-way valve. Hose reel and hose to be furnished for air motors. Oil reservoir to be mounted on press crown. Reservoir to be arranged with raised lip around its perimeter to provide for oil collection. Furnish multi-pass heat exchanger with warning light mounted on panel to indicate excess temperature. Control by means of combination push button and miniature Servo Control and lever. Selector Switch to provide high tonnage (500 tons maximum) or low tonnage (140 tons maximum). Ram Speed at high tonnage to be 3" - 24" per minute. Ram Speed at low tonnage to be 8" - 84" per minute Remote pressure control valve with dial type pressure gage mounted on the control panel. Furnish (3) sets of bound maintenance manuals. Paint Machine "Delux" Machinery Greer. High Gloss DuPont #81-62747.
No conduit or piping to be run on outside or press between floor level and top of press head. The only exception is in the center openings of the two housing. All tube fittings to be Imperial-Eastman Hi-Seal sleeve type. Base, slide, head and housing to be Stress relived.
---
Paramount Industries has partnered with Otoole Press for over 20 years to help industrial Equipment Buyers locate, purchase and arrange delivery on the best buys in used Hydraulic presses. We are a trusted source that knows true value in this highly specialized market. Please e-mail Ted Gillespie for complete details and pricing on the above listings or a complete fax list of available presses. Act now before it's gone!