We are pleased to offer, subject to prior sale, the following:
600 Ton Erie Mill Press (Stock # 006-1300)
in on Photos

Fill out the below for for
more information on this press..

The following specifications apply to this press:


Bed Size 84"LR x 60"FB

Daylight 36" - Stroke 18"

All presses are equipped with:

Total Surround Light Curtains

Complete Athena AT25 Solid State Heat Control System

Built In w/ recepticals - 0 - 60 sec Hold Timer

Counter - Bump Delay -Cure

Call for photos

---

Paramount Industries has partnered with Otoole Press for over 20 years to help industrial Equipment Buyers locate, purchase and arrange delivery on the best buys in used Hydraulic presses. We are a trusted source that knows true value in this highly specialized market. Please e-mail Ted Gillespie for complete details and pricing on the above listings or a complete fax list of available presses. Act now before it's gone!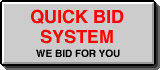 Don't let these 2 Straight Side DANLY & CLEARING large Bed stamping presses get away. These have full Cushions, front to rear Bolsters, PLC controls, and more.... all meeting OSHA safety requirements. Power on inspections arranged. CLICK HERE for details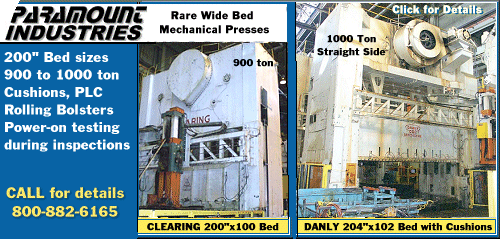 900 to 1000 ton Used Straight-side large Bed Mechanical Presses for sale
Danly Model S4-1000 QDC 204x102 and Clearing Model F-4-900-QDC 200x100 bed

Offer To Purchase Agreement | Listing & Brokerage Agreement | Information Request Form | Want To Purchase