We are pleased to offer, subject to prior sale, the following:

3000 Ton CLEARING 4 - Post Hydraulic Press


Model H-3000-216-120 (1972) ...Stock # (214-1030)
Click to enlarge Photo of this Clearing-4 Post 3000 ton Hydraulic Press

The following specifications are in inches and feet:

216" x 120" Bed Size
3000 Ton Down Acting Hydraulic
216" x 120" Actual Bed & Bolster Size
Three (3) Main Cylinders
96" Daylight
24" Shut Height
72" Stroke of Slide
Capacity 800 Tons Cushions
30" Stroke of Die Cushions ..You may inspect this unit in our Detroit area warehouse.

Paramount Industries has partnered with Otoole Press for over 20 years to help industrial Equipment Buyers locate, purchase and arrange delivery on the best buys in used Hydroulic presses. We are a trusted source that knows true value in this highly specialized market. Please e-mail Ted Gillespie for complete details and pricing on the above listings or a complete fax list of available presses. Act now before it's gone!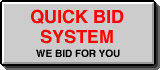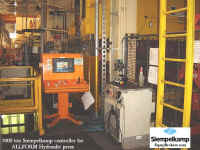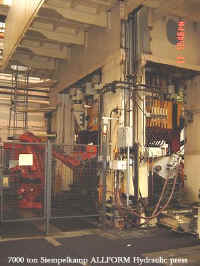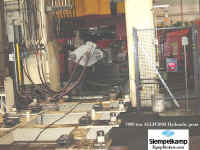 Very versitle 7000 ton Hydroform or Metal stamping Siempelkamp Press to be sold at liquidation pricing. We arrange shipping worldwide on this unique hydraulic press.
Formerly at a major Automotive Hydroforming facility in Milwaukee,Wi. this Siempelkamp has the following Specifications:
39" Stroke and 78" Daylite
138.5" 78" Slide Area
175.5" x 84" Die Plate Area
min 500kN Return force
350 mm/s advance speed
40 mm/s preforming
350 mm/s return speed

Hydroforming via the Siempelkamp ALLFORM technology enables the economical production of complex and intricate workpiece shapes. This complexity relates to both longitudinal and cross sections. Typical examples include chassis parts, branching elements of tubes, and frame and exhaust parts.

The advantages of ALLFORM PRESSES

Weight and material savings of 40 to 50 %, in some cases even up to 75 %
Wall thickness distribution optimized to component requirements
High work hardening
Continuous material grain flow for optimum component performance
More precise dimensional accuracy
Flow-advantageous component contours and junction geometries
Elimination of webs for joining operations
Better usage of limited installation space

The ALLFORM method: The starting material is usually a hollow pre-form or a sheet blank, which is pressed into the shape of a forming tool with a high-pressure fluid. Compared to conventional methods, even hydro-mechanical and hydrostatic ones, the forming possibilities are significantly increased using this Siempelkamp Hydraulic stamping press..

Call Ted Gilespi at Phone# 800-882-6165
for Pricing and inspection appointments
* #100 Ton Minster PM3 * #1000 Ton Danly Press . Model# SE4-1000 * #1000 Ton Danly SE4-1000-108-84 * #1000 Ton U.S.I Clearing 4-Point Straight Side Presses * #300 TON MINSTER HEAVY STAMPER *#600 TON MINSTER HEAVY STAMPER SSDC PRESS * #800 TON DANLY S4-800 * #800 TON WARCO PRESS * #SE2-600-120 x 60 CMC-BLISS PRESS * #USI -CLEARING 600 Ton *
Click here for

2000 Ton HPM used Hydraulic Press at great price.

Offer To Purchase Agreement | Listing & Brokerage Agreement | Information Request Form | Want To Purchase