We are pleased to offer, subject to prior sale, the following:
500 Ton Verson 4 - Post Down Acting Hydraulic
Press 1968 -( S/N - 20793 ) Model # 500 HD1 - 6611 (Stock # 000-5004)
(Stock # 000-5004)

Photos available upon request

Fill out the below for for
more information on this press..

The following specifications apply to this press:

4-Post Hydraulic Press by VERSON

Bedsize: 66" L-R x 42" F-B

Daylight : 68" - Stroke: 0 to 36"

Bolster Size: 66" RL x 42" FB x 2 ¼ " Thick

Distance between Posts: 68" RL x 24" FB

Post Diameter: 8"

Speeds: Fast Advance 450IPM

Pressing 45.5 IPM - Fast Return 336 IPM

Max. Pressure 2760 PSI - Bed Height from Floor 26"

Equipped with: -Oilgear Transmission Pump - - Joy Stick controlled - - 100 HP Delco Motor 460 Volts , 890 RPM - Approx. Weight: 65,000 LBS

Approx. Overall Dimensions: 113" L x 88"D x 17'9" High Removed from Lab 4 month ago. Since new has had rubber telescoping boat protection on cylinders

---

Paramount Industries has partnered with Otoole Press for over 20 years to help industrial Equipment Buyers locate, purchase and arrange delivery on the best buys in used Hydraulic presses. We are a trusted source that knows true value in this highly specialized market. Please e-mail Ted Gillespie for complete details and pricing on the above listings or a complete fax list of available presses. Act now before it's gone!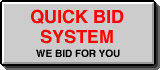 650 ton PACIFIC 4 post hydraulic press in excellent condition
We are pleased to offer this Pacific 650 ton 4 post hydraulic press in excellent working condition for immediate sale.
Year manufactured: 1994.....Model 650 CX 12/126

Bed & Ram Size: 144" rl x 126"fb Stroke: 86" .Daylight: 110"

Adjustable Tonnage via PLC operator interface.

Max open above Bolster: 114" and Min open is 28" above bolster

Equipped with Dual Rolling Bolsters front to back 4" thick Tee Slotted Bolster Top is 11" above floor

Base Sets 39" below floor level and has Max Height above floor = 275 3/8" or 22' 9" Approx Machine weight: 300,000 lbs and Condition is very Good and ready for production

Unique opportunity to own 5 complete working automotive industry presslines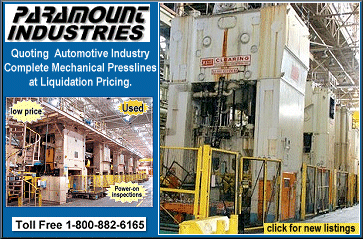 A major automobile manufacturer has contracted with Paramount Industries to liquidate all, or partial lots of one of their local Detroit production plants. Power-on inspections now taking place for 10 major presslines of varying capacities and all miscellaneous metal stamping equipment. This is a once in a lifetime opportunity to buy well maintained working metal stamping presses for pennies on a dollar invested. Click here to see all this automotive plant liquidation listings, photos and spec sheets.
Click for

New Listings

1500 ton Klockner Plastic Injection Molding Press (like new)


3500 Ton HPM 4 POST Hydraulic Press -distressed sale price


5000 Ton Lake ERIE Triple Action Hydraulic Press


5000 Ton BLISS 4 POST Hydraulic Press at a liquidation price


1500 Ton SAVAGE Traveling Gantry Straightening Press
USED Composite SMC and DMC Molding Machines
Paramount Industries Inc. now specializes in sales of used SMC or DMC composite plastic molding machinery, designed for use in plastic molding production plants. If your looking to save some money by purchasing used rubber molding, SMC or DMC systems, composite plastics, thermoset bulk molding and fiberglass laminating equipment. We sell and ship to industrial equipment buyers in the US, Canada, Mexico and worldwide. We also purchase or broker used plant press and metal fabricating equipment, and offer a variety of services from specific machinery searches to physical inspections and rigging. The below SMC and DMC presses and molding systems are available now through Paramount Industries Inc. Give us a call or fill in the e-mail request above.
1. 800mm Schmidt & Heinzman used SMC Machine -new in 1987
2. Finn & Fram 60" SMC Machine. New 1987 model -never used.
Rubber Compound Molding Presses
* #100 Ton Minster PM3 * #1000 Ton Danly Press . Model# SE4-1000 * #1000 Ton Danly SE4-1000-108-84 * #1000 Ton U.S.I Clearing 4-Point Straight Side Presses * #300 TON MINSTER HEAVY STAMPER *#600 TON MINSTER HEAVY STAMPER SSDC PRESS * #800 TON DANLY S4-800 * #800 TON WARCO PRESS * #SE2-600-120 x 60 CMC-BLISS PRESS * #USI -CLEARING 600 Ton *
Offer To Purchase Agreement | Listing & Brokerage Agreement | Information Request Form | Want To Purchase