WE ARE PLEASED TO OFFER THE FOLLOWING MACHINERY FOR YOUR IMMEDIATE PURCHASE CONSIDERATION
Paramount Industries has this used 2500 ton HPM Hydraulic Press for sale at a wholesale price.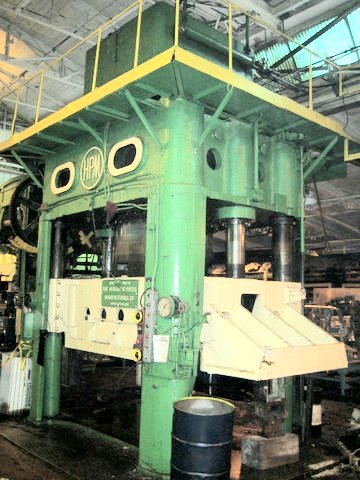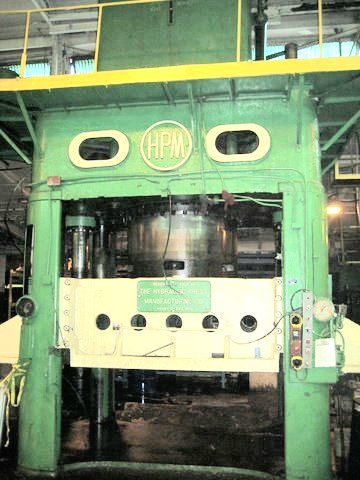 Photos of the HPM 2500 ton hydraulic press for sale
Style is 4-Post and manufacturer is HPM
Stroke = 24" Daylight = 48"
Platen is 200" x 66" with Bed size 100" x 66" between posts.
Nationwide and international shipping and immediate delivery terms.
---
CONTACT
SELLER
Paramount Industries helps industrial Equipment Buyers locate, purchase and arrange delivery on the best buys in used Hydraulic presses. We are a trusted source that knows true value in this highly specialized market. Please e-mail Ted Gillespie OR CALL 800 882-6165 for complete details and pricing on the above listings or a complete fax list of available presses. Act now before this one is gone by calling Ted Gillespie the exclusive sales agent!
Please fill in below form info and submit only once
Paramount Industries has over 75,000 square feet to serve our customers right in the heart of Metro Detroit's automotive industrial manufacturing center. Our service, staff and quality products continues to keep our customers satisfied during the entire sales process. Experience the difference when tapping into savings bu using Paramount's buying power today. Make your next production plant equipment purchase though our network of buyers and sellers.!
5000 Ton Lake Erie Triple Action Hydraulic Press mfgr date 1955 and 5000ton BLISS 4 POST Hydraulic presses for sale at liquidation prices. The specs are show below and these high production presses can be inspected in a power-on condition. Shipping can be arranged worldwide.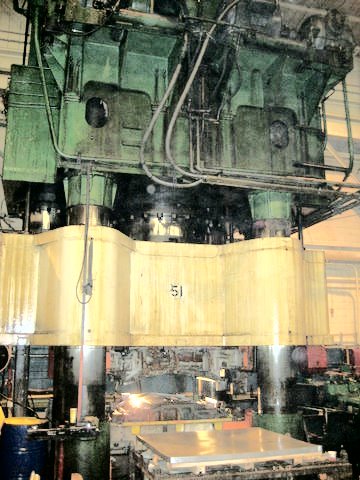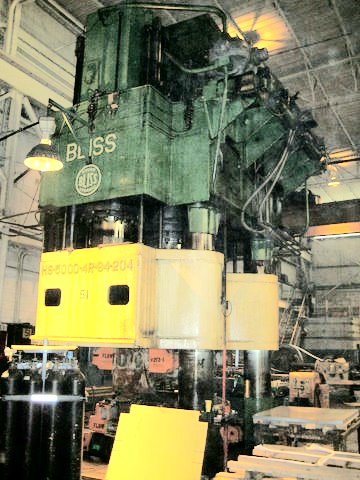 5000 Ton Bliss 4 -Post Hydraulic Press
SPECS : 5000 Ton bliss 4-post hydraulic type
STROKE 48" ..... Daylight = 132"
Platen = 84" x 204" with Bed size 84" x 100" Between Posts
Newest listings of major brand parts stamping and forming hydraulic presses include the following:

750 ton Hydraulic Gap Frame rare straightening press and all supporting press equipment

500 Ton Baldwin 6-Post Up-Acting Hydraulic Rubber Press

USED KOMATSU MODEL C2S-2000-3TR 2,000 TON STRAIGHT-SIDE TRANSFER PRESS

500 Ton Columbia Hydraulic up acting hot oil plywood press

This 1963 1400 ton ERFURT eccentric straight side press is part of a complete forging press line offered for sale
** 4000 Ton Verson Hydraulic Press for immediate sale. This Model 4000-HD3-184 has 42" Stroke and 74" Daylight, which can be increased with risers. Bed size is 184" x 102". Tech Machinery Sales can arrange under-power inspection and quote shipping worldwide on this Verson stamping Press...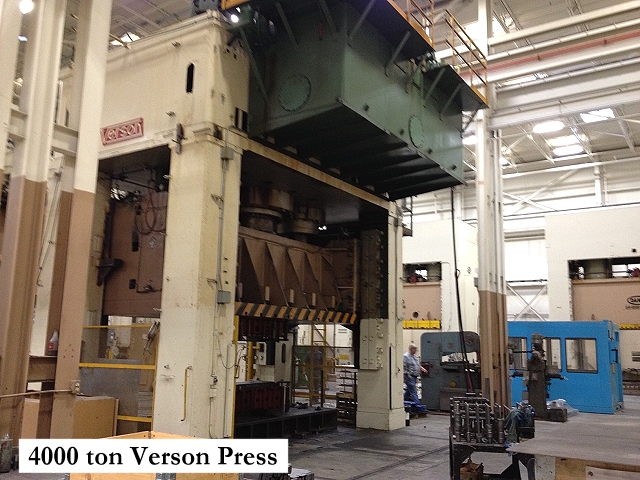 ---
Unique opportunity to own 5 complete working automotive industry presslines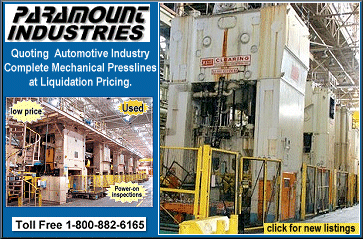 A major automobile manufacturer has contracted with Paramount Industries to liquidate all, or partial lots of one of their local Detroit production plants. Power-on inspections now taking place for 10 major presslines of varying capacities and all miscellaneous metal stamping equipment. This is a once in a lifetime opportunity to buy well maintained working metal stamping presses for pennies on a dollar invested. Click here to see all this automotive plant liquidation listings, photos and spec sheets.
Click for

New Listings

1500 ton Klockner Plastic Injection Molding Press (like new)


1000 ton Williams and White Hydraulic Presses for sale


2500 Ton HPM 4 POST Hydraulic Press -distressed sale price


5000 Ton Lake ERIE Triple Action Hydraulic Press


5000 Ton BLISS 4 POST Hydraulic Press at a liquidation price


660 ton PTC Straight Side Feed custom built press -special price


1500 Ton SAVAGE Traveling Gantry Straightening Press


800 ton Danly straight side 4 point presses (5 ea) for sale


8000 Ton AP&T Hydroforming frame Press -like new


2000 Ton HPM used Hydraulic Press at great price.

SPS 7800ton Siempelkamp
Hydraulic Press ready to ship

O

ne Pre-Owned Siempelkamp (SPS) 7800 Ton Hydraulic Press, Originally Designed

and put into production as a

Hydroforming Press,

factory serial number

S/N 171, New

in year

2000

SPECIFICATIONS

of this used hydraulic press

:


Maximum Force (70,000kn) 7860 Ton

Length of Bed 18ft

Pressing Area (3500mm x 2000mm) 140" x 80"

Length of Ram 11'9"

Length of Stroke (1000mm) 40"

Open Height-Daylight (2000mm) 80"

Approach Speed 350mm/s) 840"/m

Working Speed-Maximum (40 mm/s) 96"/m

Return Speed 400"/m

Oil Capacity (appx) 4700 gal

Maximum Tool Weight-lift (60,000kn) 6740 Ton

Main Motors (4) 200 Hp each

Connection Voltage 440V, 60Hz

Power Consumption (appx) 675Kw

Wei

ght

(appx) (560,000 kn) 126,000 Ton

EQUIPPED WITH:

Rexroth Top Mounted Hydraulic System

Material/Tooling Transfer System

CONDITION: Very Good – Reported to have only 500 hours

of production

use.

LOCAT

ED IN

South Central USA

and can be i

nspected-Disassembled and

ready to be

Loaded to Truck...

We can arrange world wide shipping on these presses.

Call Ted Gillespie at 800 882-6165 for SPS Siempelkamp 7800 ton pricing and worldwide delivery options
Offer To Purchase Agreement | Listing & Brokerage Agreement | Information Request Form | Want To Purchase