We are pleased to offer, subject to prior sale, the following:
1000 Ton Williams & White Hydraulic Straightening & Dishing Press (New in 1986) (Stock # 006-1006)
Stock # (006-1006)


in on Photos

Fill out the below for for
more information on this press..

The following specifications apply to this press:

Working Dimensions:

Capacity 1000 Tons - Area of Bed 340" x 144"

Work Area 264" x 120" - Travel of Gantry on Bed 264"

Travel of Carriage 120" - Daylight over Bed 120"

Shut Height 12" - Stroke of Ram 108"

Ram Speeds:

Fast Close 45 IPM -Pressing ( variable ) 2 - 11 IPM

Fast Opening 50 IPM

Speed of Carriage & Gantry 30 to 150 IPM (variable)

Diameter of Ram 30" - Pendant Control -Digital Readouts -75 Horsepower Main Motor

Machine has less than 200 Hour of Use Like New

---

Paramount Industries has partnered with Otoole Press for over 20 years to help industrial Equipment Buyers locate, purchase and arrange delivery on the best buys in used Hydraulic presses. We are a trusted source that knows true value in this highly specialized market. Please e-mail Ted Gillespie for complete details and pricing on the above listings or a complete fax list of available presses. Act now before it's gone!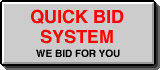 Click for

New Listings

1500 ton Klockner Plastic Injection Molding Press (like new)


3500 Ton HPM 4 POST Hydraulic Press -distressed sale price


5000 Ton Lake ERIE Triple Action Hydraulic Press


5000 Ton BLISS 4 POST Hydraulic Press at a liquidation price


1500 Ton SAVAGE Traveling Gantry Straightening Press
Unique opportunity to own 5 complete working automotive industry presslines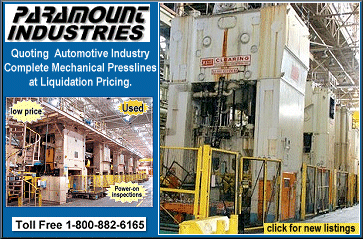 A major automobile manufacturer has contracted with Paramount Industries to liquidate all, or partial lots of one of their local Detroit production plants. Power-on inspections now taking place for 10 major presslines of varying capacities and all miscellaneous metal stamping equipment. This is a once in a lifetime opportunity to buy well maintained working metal stamping presses for pennies on a dollar invested. Click here to see all this automotive plant liquidation listings, photos and spec sheets.

Offer To Purchase Agreement | Listing & Brokerage Agreement | Information Request Form | Want To Purchase