The following specifications apply to this press: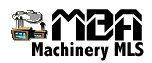 500 Ton Hydraulic Williams & White
(Stock # 021-1005) - (new in 1975) S/N C4101
Bed Size 60" x 72" - Daylight 60"
Stroke 45" - Ram Size 60"x 72"
Speed 9 - 900 IPM - Windows 30"
Cushions 2 - 80 Ton
Offered jointly with Otoole Press and Paramount Industries in Detroit Michigan where you can view this complete press system with the many options thta are included in the pricing.

in on Photos of this 500 Ton LAKE ERIE press
---
Fill out the below for for more information on this press..
Paramount Industries has partnered with Otoole Press for over 20 years to help industrial Equipment Buyers locate, purchase and arrange delivery on the best buys in used Hydraulic presses. We are a trusted source that knows true value in this highly specialized market. Please e-mail Ted Gillespie for complete details and pricing on the above listings or a complete fax list of available presses. Act now before it's gone!