We are pleased to offer, subject to prior sale, the following hydraulic stamping press:
8000 Ton AP&T Hydroforming Frame Press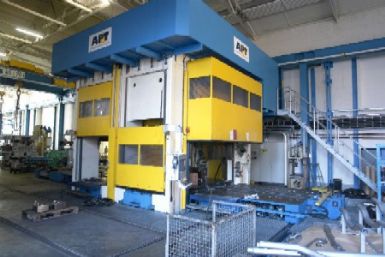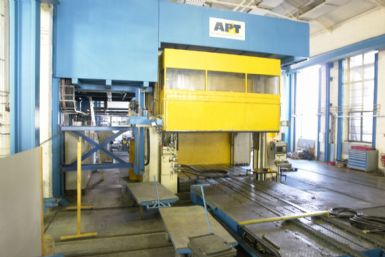 Stock No:
7-29017
Manufacturer:
AP&T
Model #:
HF-80000-30/51
New In:
2001
Condition:
Like brand new condition
Controls:
SIEMENS SINUMERIK 840 D

Press Design
frame design
frame type
Press forces
total force (nominal)
8000 to
Press Table
clamping surface (left-right)
2500 mm
clamping surface (front-back)
3000 mm
clamping surface (left-right)
2500 mm
clamping surface (front-back)
3000 mm
number of tables
2
Ram
ram force
300 to
clamping surface (left-right)
2500 mm
clamping surface (front-back)
3000 mm
stroke
1100 mm
restoring force of ram
30 to
ram force
300 to
clamping surface (left-right)
2500 mm
clamping surface (front-back)
3000 mm
stroke
1100 mm
restoring force of ram
30 to
Tool Assembly Dimensions
daylight max.
1200 mm
distance between columns (H-frame)
1700 mm
Electrical specifications
total power consumption
400 kW
mains voltage
400 V
mains frequency
50 Hz
Dimensions / weights
space requirements length
20000 mm
space requirements width
13000 mm
height above floor level
6400 mm
height under floor level
3700 mm
Attachments for Presses
acc. to actual accident protection regulation
yes
operating panel
yes




Technical description
Hydraulic Hydro/ Fluidforming Press consisting of 2 modules (2 rams and 2 tables) which can be operated single or in coupled mold.
Table and Ram Surface in coupled position is 3000 x 5100 mm.
Each Ram and Table Surface is 3000 x 2500 mm.
Tool assembly height max. 1200 mm
Ram force for each ram is 300 tons
Closing cylinder force each = 4.000 tons, Coupled = 8.000 tons
Maximum opening height of the press is 2100 mm.
All axis and functions controlled by SIEMENS SINUMERIK 840 D control
Call 1-800-882-6165 for wholesale Pricing and full specifications.
Can be shipped from Germany location to any worldwide destination.
Additional 4 Post Hydraulic and mechanical Presses in various tonnage capacities are available for purchase from Paramount Industries Inc. Please call or fill in information/quote request form below and we'll get right back in touch with you on this great liquidation priced 8000 ton Hydroforming press.
CONTACT
SELLER
Please fill in below form info and submit only once

Paramount Industries has partnered with Tech Machinery Inc. and Otoole Press for over 20 years to help industrial Equipment Buyers locate, purchase and arrange delivery on the best buys in used Hydraulic stamping presses, CNC centers, milling and routing systems for the metal working industry. We are a trusted source that knows true value in this highly specialized market. Please e-mail Ted Gillespie for complete details and pricing on the above listings or a complete fax list of available presses. Act now before it's gone!
---
Newest listings from EquipBrokers.com and Paramount Industries include ERIE and K.R.Wilson 4 post hydraulic presses ranging from 176 tons to over 8000 ton capacities. Take a look at these and save your plant some real money as these will be re-sold at liquidation prices. Call Ted for pricing and other presses for immediate delivery worldwide.

We are pleased to offer for immediate sale this 2000 Ton Danly #SE4-2000-180-84 TFQ 4-Point Eccentric Geared Straight Side Press (our stock # 8096). See full Danly 2000ton Press detail page with complete specifications ... CLICK HERE!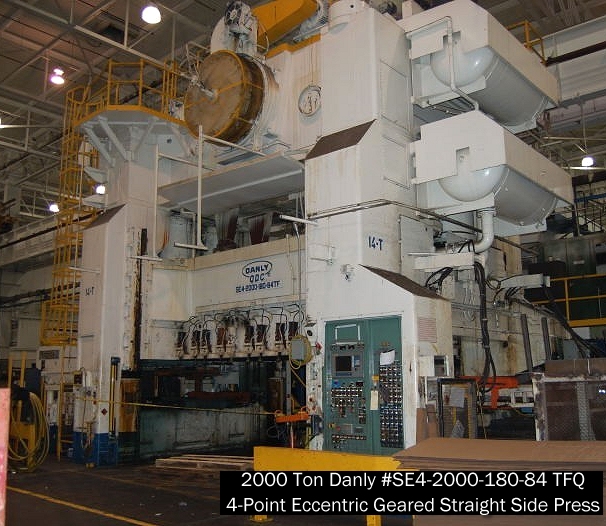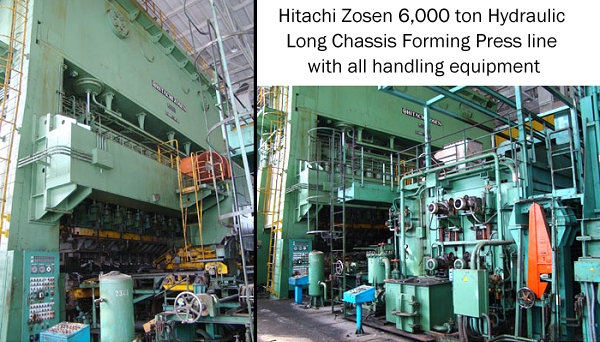 Used 6000 ton Hitachi Zozen (Clearing USI ) long chassis mechanical forming presses for sale at liquidation pricing. Paramount Industries Industrial Sales department is pleased to offer for immediate sale these 2 used 6000 ton Hitachi Zozen (USA CLEARING) Single action Straight side long bed 2 point mechanical presses with below specifications. These 2 inline presses have moving bolsters, among other options, increasing their production line value for a variety of frame/chassis forming applications. The Hitachi Zozen or USI Clearing Model S2-6000-1100-200 presses are perfect for use in manufacturing frames / chassis for Trucks, Buses, Light rail cars and heavy rail cars, along with heavy steel plate stampings and transfer die stampings..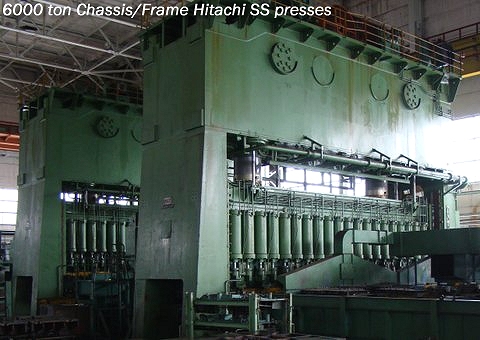 23 Hydraulic Compression Molding Presses from 500 ton to 2500 ton for sale at liquidation prices. (Shelbyville Indiana auto parts plant)

Grabill Indiana Compression Molding plant liquidation sale on ERIE, French Oil, Hepburne and Williams & White compression molding presses ranging from 400 to 4450 ton capacities. Also HPM Injection Molding presses for immediate sale on same page.
---
We are pleased to offer in perfect working condition this 5000 Ton Williams & White Hydraulic 4-Post Press for immediate sale. We can arrange worldwide shipping on this Williams & White stamping press and all electronics and safety equipment for buyer.
SPECIFICATIONS

for

5000 Ton Williams & White Hydraulic 4-Post Press
Model #H-5000-200-96M
Serial #C-4781
Year 1999
Stroke 72"
Daylight 112" to Rolling Bolster
Stripping Tonnage 200
Die Space 96" x 200"
Operating Speeds:
Fast Close 700 IPM
Int. Press (to 1000 ton) 15-150 IPM
Pressing 3-30 IPM
Stripping 15-150 IPM
Fast Open 525 IPM
Water Hydroforming System
Console controls
Please Call Ted Gillespie @ 800-882-6165 for pricing on this 5000 Ton Williams & White Hydraulic 4-Post Press Model #H-5000-200-96M press. He can also arrange inspections and shipping via bonded carrier to major cities worldwide.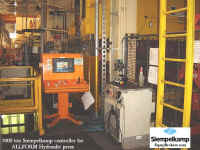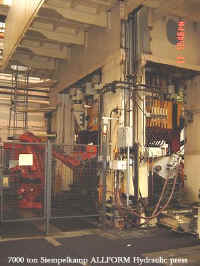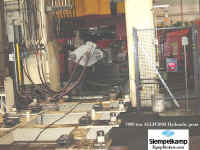 Very versitle 7000 ton Hydroform or Metal stamping Siempelkamp Press to be sold at liquidation pricing. We arrange shipping worldwide on this unique hydraulic press.
Formerly at a major Automotive Hydroforming facility in Milwaukee,Wi. this Siempelkamp has the following Specifications:
39" Stroke and 78" Daylite
138.5" 78" Slide Area
175.5" x 84" Die Plate Area
min 500kN Return force
350 mm/s advance speed
40 mm/s preforming
350 mm/s return speed

Hydroforming via the Siempelkamp ALLFORM technology enables the economical production of complex and intricate workpiece shapes. This complexity relates to both longitudinal and cross sections. Typical examples include chassis parts, branching elements of tubes, and frame and exhaust parts.

The advantages of ALLFORM PRESSES

Weight and material savings of 40 to 50 %, in some cases even up to 75 %
Wall thickness distribution optimized to component requirements
High work hardening
Continuous material grain flow for optimum component performance
More precise dimensional accuracy
Flow-advantageous component contours and junction geometries
Elimination of webs for joining operations
Better usage of limited installation space

The ALLFORM method: The starting material is usually a hollow pre-form or a sheet blank, which is pressed into the shape of a forming tool with a high-pressure fluid. Compared to conventional methods, even hydro-mechanical and hydrostatic ones, the forming possibilities are significantly increased using this Siempelkamp Hydraulic stamping press..

Call Ted Gilespi at Phone# 800-882-6165
for Pricing and inspection appointments
Sellers wanted: Click here to E-Mail us your surplus equipment list or call and fax us as we are alway purchasing used industrial product plant equipment for resale to domestic and overseas clients. Below you'll find some newly pruchased presses available for immediate delivery. Through our MBA Member services we can offer value added equipment services like rigging - domestic and overseas freight delivery -machine retro fitting -hydraulic and electrical control services and finance/leasing arrangements.
Rubber Compound Molding Presses
Just on the market: 1250 Ton KTM-NORAMEX Rubber molding press... click here to see the full details on this production molding press
* #100 Ton Minster PM3 * #1000 Ton Danly Press . Model# SE4-1000 * #1000 Ton Danly SE4-1000-108-84 * #1000 Ton U.S.I Clearing 4-Point Straight Side Presses * #300 TON MINSTER HEAVY STAMPER *#600 TON MINSTER HEAVY STAMPER SSDC PRESS * #800 TON DANLY S4-800 * #800 TON WARCO PRESS * #SE2-600-120 x 60 CMC-BLISS PRESS * #USI -CLEARING 600 Ton *
Additional heavy duty stamping presses we can offer for immediate purchase...see below.. or call for fax list!


Offer To Purchase Agreement | Listing & Brokerage Agreement | Information Request Form | Want To Purchase