We are pleased to offer for immediate sale this 2000 Ton Lake Erie Housing Type Hydraulic Press with the below specifications. We can arrange shipping worldwide on this Lake Erie press and others listed here at Equipbrokers.com
Please Call Ted Gillespie of Paramount Industries for pricing on this 2000 ton Lake Erie press. He can also quote shipping worldwide and has additional press details, or can arrange in plant inspection. See the below video on this Lake Erie press in action and call before this one is sold....
LAKE ERIE 4 POST HYDRAULIC PRESS
CAP - 2000 TON
STROKE - Approx. 36"
DAYLIGHT BETWEEN BOLSTERS - 91.5"
TYPE OF FRAME – 4 post – 12 1/2 dia. Rods
DISTANCE BETWEEN POSTS – 84" X 132"
BOLSTER AREA – 120" X 130"
TOP OF PRESS OIL GEAR PUMPS
MOTORS (2) WITH CONTROLS – 250 HP
PLC CONTROL PANEL VIEW – 900
ALLEN BRADY SLC 503
TIE RODS 22' X 18" DIA (4)

Press rebuilt in 1999 at cost over $600,000. Replaced with new oil gear pumps & motors and we can furnish video or working press under power. General press detail prints and manuals with the sale. excellent condition and Runs smooth.


1999 used Lake Erie Press with PLC Allen Bradley controller.
HPM 1500 ton Deep Draw Hydraulic Press for sale by Paramount Industries Inc.
We are pleased to offer for your consideration the following used hydraulic HPM stamping press.

(1) HPM 1500 ton Deep Draw Hydraulic Press
Serial: 4084 and total Capacity - 1500 ton
Die cushion - 600 ton
Bolster size - 60" x 60"
Stroke - 30" - Open height - 50"
Bolster thickness - 10"
Advance speed - 400 IPM
Pressing speed (up to 500 tons) - 58 IPM
Pressing speed (500-1500 tons - 17.5 IPM
Return speed - 400 IPM
Motor - 100 HP
- 175 amp at 480 volt
Approximate weight - 185,000 lbs.
Approximate overall dimensions - 8' x 9' x 23'

Features: HPM radial pump and full controls
Stock Number: - 11076 -

Click to Enlarge
* #100 Ton Minster PM3 * #1000 Ton Danly Press . Model# SE4-1000 * #1000 Ton Danly SE4-1000-108-84 * #1000 Ton U.S.I Clearing 4-Point Straight Side Presses * #300 TON MINSTER HEAVY STAMPER *#600 TON MINSTER HEAVY STAMPER SSDC PRESS * #800 TON DANLY S4-800 * #800 TON WARCO PRESS * #SE2-600-120 x 60 CMC-BLISS PRESS * #USI -CLEARING 600 Ton *
Click for

New Listings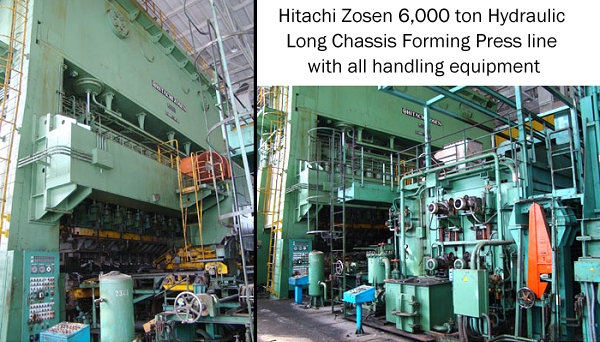 Used 6000 ton Hitachi Zozen (Clearing USI ) long chassis mechanical forming presses for sale at liquidation pricing. Paramount Industries Industrial Sales department is pleased to offer for immediate sale these 2 used 6000 ton Hitachi Zozen (USA CLEARING) Single action Straight side long bed 2 point mechanical presses with below specifications. These 2 inline presses have moving bolsters, among other options, increasing their production line value for a variety of frame/chassis forming applications. The Hitachi Zozen or USI Clearing Model S2-6000-1100-200 presses are perfect for use in manufacturing frames / chassis for Trucks, Buses, Light rail cars and heavy rail cars, along with heavy steel plate stampings and transfer die stampings..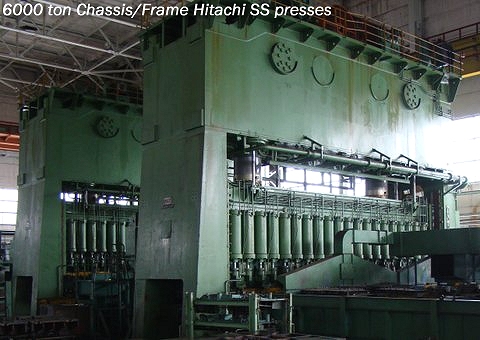 1500 ton Klockner Plastic Injection Molding Press (like new)


3500 Ton HPM 4 POST Hydraulic Press -distressed sale price


5000 Ton Lake ERIE Triple Action Hydraulic Press


5000 Ton BLISS 4 POST Hydraulic Press at a liquidation price


1500 Ton SAVAGE Traveling Gantry Straightening Press


1500 Ton HPM Deep Draw 4 post hydraulic press for sale


8000 Ton AP&T Hydroforming frame Press -like new

586-779-2267

sales@EquipBrokers.com
Buyers Agent helpline: 1-800-882-6165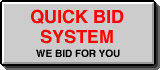 Offer To Purchase Agreement | Listing & Brokerage Agreement | Information Request Form | Want To Purchase