Paramount Industries and the knowledgeable members of the MBA recommend to any of our visitors the following steps to assure your purchasing of production machinery and related plant equipment will meet your needs and expectations:
Understand the production capabilities and condition of the equipment your buying by communicating to seller all your requirements.

Make sure the "seller" provides you with verifiable maintenance records, equipment retrofit quotes, manuals and complete manufacturer specs.

Verify the condition of the equipment through a on-site inspection or use a expert third party opinion or appraisal on the condition, value and all acquisition related to a total acquisition cost.

Post your " want to buy" classified Ads to get multiple seller quotes on the equipment you seek. Reach beyond your immediate area and newspaper to all potential sources for the best deals by researching listings in trade journals or on the Internet at sites like WWW.EquipBrokers.com

Research the competitive pricing and seek only sources that will provide full descriptions and photos whenever seriously considering buying used machinery. Check the credentials, history and references of seller before completing the deal. If it sounds too good to be true - it probably is!

Be prepare to pay for relocation, retrofitting, and "buyers" auction fees". Use third party expertise and purchasing service when evaluating used plant or construction equipment like those offered by Paramount and our MBA alliance members. ( see member profile pages here )

Unique opportunity to own 5 complete working automotive industry stamping presslines


A major automobile manufacturer has contracted with Paramount Industries to liquidate all, or partial lots, of one of their local Detroit production plants. Power-on inspections now taking place for 10 major presslines of varying capacities, and all miscellaneous metal stamping equipment in this plant. This is a once in a lifetime opportunity to buy well maintained working metal stamping presses for pennies on a dollar invested by a big 3 auto manufacturer. Clearing, Bliss, Version, Danly stamping presses from 2000Ton to 400 ton capacities, with all OSHA inspected safety gear, controllers, conveyers and roll feeder equipment included. Click here to see all this automotive plant liquidation listings, photos and spec sheets.

Danly, Verson, Bliss and Clearing used automotive metal stamping presslines for sale a liquidation prices.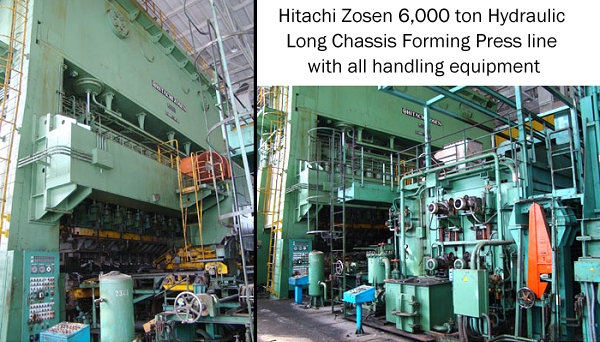 Used 6000 ton Hitachi Zozen (Clearing USI ) long chassis mechanical forming presses for sale at liquidation pricing. Paramount Industries Industrial Sales department is pleased to offer for immediate sale these 2 used 6000 ton Hitachi Zozen (USA CLEARING) Single action Straight side long bed 2 point mechanical presses with below specifications. These 2 inline presses have moving bolsters, among other options, increasing their production line value for a variety of frame/chassis forming applications. The Hitachi Zozen or USI Clearing Model S2-6000-1100-200 presses are perfect for use in manufacturing frames / chassis for Trucks, Buses, Light rail cars and heavy rail cars, along with heavy steel plate stampings and transfer die stampings..