Paramount Industries specializes in new and used metal working machinery for all types of industrial applications. This site, and all our personalized services, address the needs of both buyers and sellers of used plant production equipment. Buyers worldwide can browse our hydraulic and mechanical press equipment listings, tube mills and tube form lines to plastic molding presses and industrial plant closing and liquidation items. You can arrange a direct purchase or post an offer with Paramount acting as your "buyers agent". Foreign Language tools are available for browsing these pages. Over the last 42 years our clients have securely purchased used industrial production equipment and have these bargains shipped to USA cities, Canada, Mexico, India, Europe and South America. We welcome overseas purchasing customers needing an experienced USA industrial equipment buyers agent. View some samples of used industrial plant production equipment we have for immediate sale below.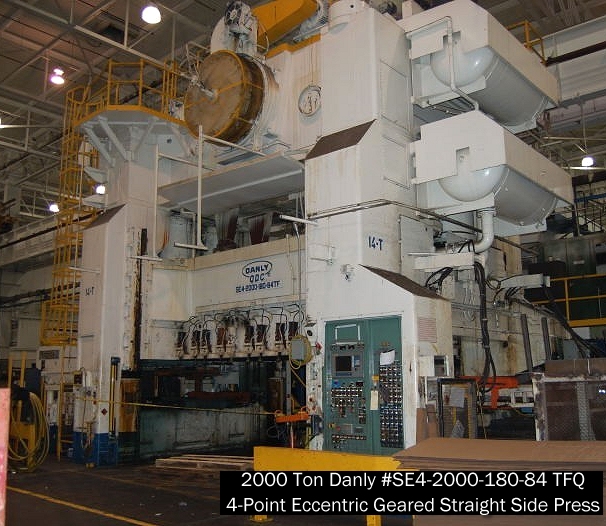 Used DANLY 2000 ton eccentric geared Straight-Side press
2000 Ton Danly #SE4-2000-180-84 TFQ 4-Point Eccentric Geared Straight Side Press (our stock # 8096). See below link to detail page on this and other Danly stamping presses
---
Complete Automotive parts stamping plant being sold at liquidation prices, including 400 and 600 ton press lines and supporting tool shop equipment. The plant equipment sales include 14 press lines, 4 transfer presses, 4 blanking lines, 2 cut to length lines, 2 beautiful Schuler Hydraulic tryout presses and a complete die repair tool room. We can sell the buyers the scrap conveyors and the overhead cranes. See some sample specs below and Call 800-882-6165 and ask Ted Gillespie for prices.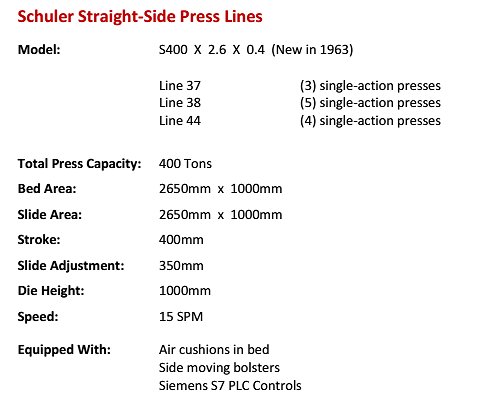 Check back as we create separate profile pages for each Auto parts stamping Press lines and specifications for the multiple presses and material handling equipment and press controllers..
Used Weingarten/Krupp line 1000 ton metal stamping press line for immediate sale at liquidation prices
---
We are pleased to offer for immediate sale these German made KUKA 6 Axis CNC Robots with complete electronic controllers, which are to be sold in units of 6. Call Ted Gillespie at this toll free phone number 1-800-882-6165 for programmable robots in individual or Robotic Arm group pricing. Click here for complete details on these Kuka German made programmable assembly line Robots in various models.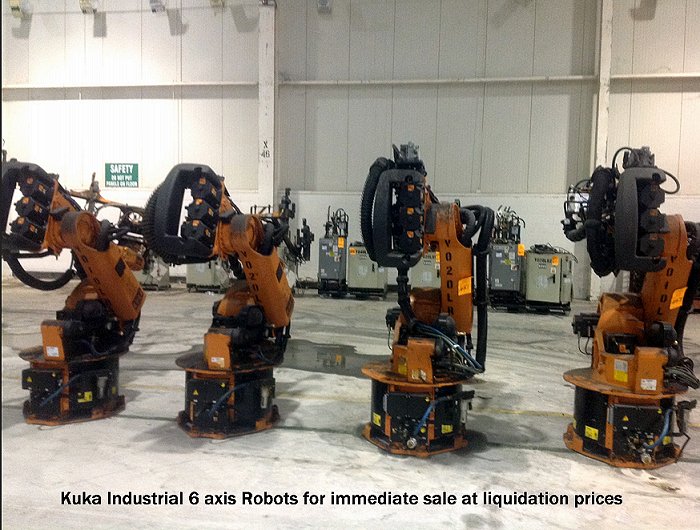 We have over 400 of the Kuka CNC programmable Robotic arms with all types of assembly line uses.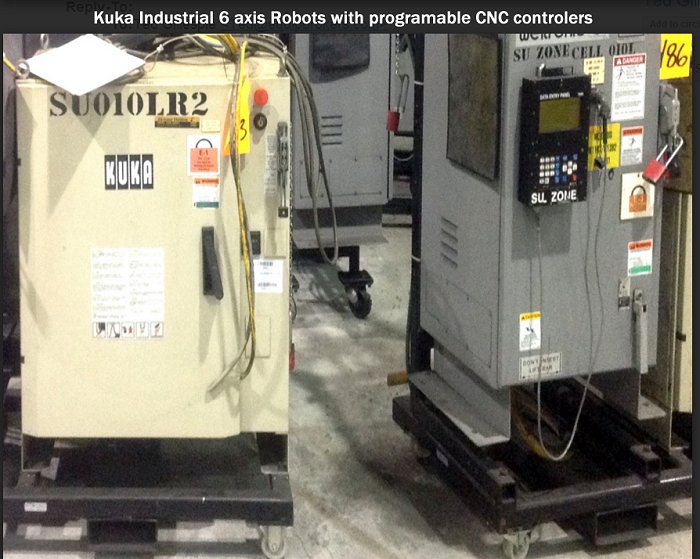 Each Kuka priogrammable Robot has matching CNC controls for all types of Robotic uses.
Click for

New Listings
We are pleased to offer for immediate sale these 2 Used USI Clearing model B4-1000-180-102 Presses. These are 1000 ton under drive presses 180-96 with the below specifications. Both of these USI Clearing 1000 Ton Underdrive Press are located in Detroit Michigan for inspection under power.

Call Ted Gillespie (800) 882-6165 for price

Model: B4-1000-180-102

Total Capacity: 1000 Tons

Bed Area: 180" X 102"

Stroke: 36"

Adjustment: 24" and Shut Height: 71"

Speed: 14 SPM

We are pleased to offer for immediate sale this used 500 ton Watson Stillman brand Up-Acting Hydraulic Press with the below specifications. Please Call

Ted Gillespie (800) 882-6165 for price

and to arrange press inspection prior to sale. Techmachiney can also quote you on shipping this 500 ton Watson Stillman up-acting press, and other presses listed at www.Techmachinery.com, to major cities worldwide.

500 Ton Watson Stillman 
4-Post Up-Acting Hydraulic Press available for sale 

SPECS: 500 Ton 4-Post Up-Acting type press .....
Bed & Ram area: 78" lr x 42" fb Stroke: 20" Daylight: 44"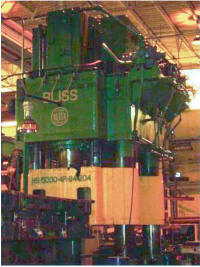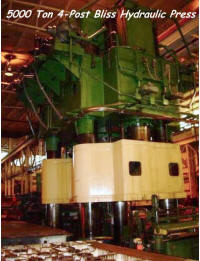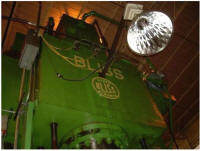 5000 Ton Bliss 4 -Post Hydraulic Press (detail page)
SPECS : 5000 Ton bliss 4-post hydraulic type
STROKE 48" ..... Daylight = 132"
Platen specs 84" x 204" with Bed size 84" x 100" Between Posts
We are pleased to offer for immediate sale this used 5000 Ton 4-Post Bliss Hydraulic Press For Sale. Please call Ted Gillespie for price and further 5000 ton Bliss 4 post press details.
---

23 Hydraulic Compression Molding Presses from 500 ton to 2500 ton for sale at liquidation prices. (Shelbyville Indiana auto parts plant liquidation sale)
Click on above Shelbyville Indiana auto parts plant stamping presses above to see photos of these bargain priced hydraulic press. See the below detail pages for some more current plant manufacturing mechanical and hydraulic presses available from Paramount Industries.

1500 ton Klockner Plastic Injection Molding Press (like new)


USI CLEARING 6-PRESS MECHANICAL PRESS LINE 1 x 1300-TON DOUBLE ACTION Press Plus 5 X 450-TON SINGLE ACTION Presses are part of this sale


1000 ton Williams and White Hydraulic Presses for sale


2500 Ton HPM 4 POST Hydraulic Press -distressed sale price


5000 Ton Lake ERIE Triple Action Hydraulic Press


5000 Ton BLISS 4 POST Hydraulic Press at a liquidation price


660 ton PTC Straight Side Feed custom built press -special price


1500 Ton SAVAGE Traveling Gantry Straightening Press


800 ton Danly straight side 4 point presses (5 ea) for sale


8000 Ton AP&T Hydroforming frame Press -like new


2000 Ton HPM used Hydraulic Press at great price.


650 ton PACIFIC 4 post hydraulic press in excellent condition
Newest listings of major brand parts stamping and forming hydraulic presses include the following:

750 ton Hydraulic Gap Frame rare straightening press and all supporting press equipment


2000 ton Lake Erie housing type hydraulic press (video and photos)

500 Ton Baldwin 6-Post Up-Acting Hydraulic Rubber Press

USED KOMATSU MODEL C2S-2000-3TR 2,000 TON STRAIGHT-SIDE TRANSFER PRESS

500 Ton Columbia Hydraulic up acting hot oil plywood press

This 1963 1400 ton ERFURT eccentric straight side press is part of a complete forging press line offered for sale
Paramount Industries equipment brokerage specializes in mechanical and hydraulic presses of all tonnage for a variety of industrial parts manufacturing applications. We also carry plastic and composite molding production equipment to go along with the demand for various metal fabrication and stamping machinery items.
1500 TON KLOCKNER
WINDSOR HORIZONTAL PLASTIC INJECTION PRESS
Excellent Condition / May be seen Under-Power
Located 19 miles North of Detroit, Michigan

Horizontal Acting PRESS for Composite molding production
190 oz Shot Platen 97" x 72" overall
Bedsize 73.5" x 63" zoom images to enlarge
---
We are pleased to offer for immediate sale these (two identical) 1200 Ton Williams & White Hydraulic Presses with a 60x48 bed size and the below specifications which can be inspected in a Southern California plant under power and shipped worldwide....
Specs on these 2 Williams and White Hydraulic presses: 1200 Ton Bed & Ram 60" x 48" stroke: 24" daylight:48" Speed: 395 IPM rapid advance 47 IPM Trimming 425 IPM with fast return available in plant under power Southern California plant site. Installed new in 1979. Call Ted Gillespie (800) 882-6165 for price on one ... or special deal on both 1200 ton Williams & White presses.
Watch Video below or VIDEO link... https://youtu.be/rUFaVRvwy6Q to see press in operation.