We are pleased to offer the following hydraulic press, subject to prior sale:
5 each - Used 800 ton Danly straight side 4 point presses for sale.
Paramount Industries is accepting offers on five 800 Ton Danly Straight Side 4-Point Presses which may be of interest to your company. All 5 presses in this production line are available and may be sold individually or as a complete press line. All presses are in working condition.
The following specifications apply to presses in this Danly 800 ton straightside pressline:
Fill out the below for for more information on this press..

800 Ton Danly Straight Side 4-Point Presses (5ea)
Model #S4-800-156 x 96 and Age 1973
Tie rod frame
Welded steel construction
Stroke 32 inches
Strokes per minute 18
Bed & slide 96 inches x 156"
Shut height 84 inches to bed
Slide adjustment 24 inches, motorized
Bolster plate 12 inches thick
Air clutch & brake
Air cushions (in (2) of the 5 presses)
Motor & controls on each
LOCATION - Warren, MI and Presses may be inspected in plant under power.

Call or Please e-mail Ted Gillespie for complete details and pricing on the above listings or a complete fax list of available presses. Act now before these used presses are gone!

We are pleased to offer for immediate sale this 2000 Ton Danly #SE4-2000-180-84 TFQ 4-Point Eccentric Geared Straight Side Press (our stock # 8096). See full Danly 2000ton Press detail page with complete specifications ... CLICK HERE!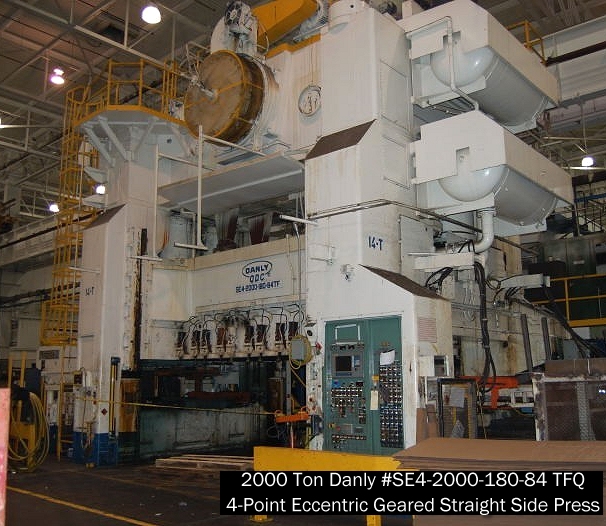 HPM 1500 ton Deep Draw Hydraulic Press for sale by Paramount Industries Inc.
We are pleased to offer for your consideration the following used hydraulic HPM stamping press.

(1) HPM 1500 ton Deep Draw Hydraulic Press
Serial: 4084 and total Capacity - 1500 ton
Die cushion - 600 ton
Bolster size - 60" x 60"
Stroke - 30" - Open height - 50"
Bolster thickness - 10"
Advance speed - 400 IPM
Pressing speed (up to 500 tons) - 58 IPM
Pressing speed (500-1500 tons - 17.5 IPM
Return speed - 400 IPM
Motor - 100 HP
- 175 amp at 480 volt
Approximate weight - 185,000 lbs.
Approximate overall dimensions - 8' x 9' x 23'

Features: HPM radial pump and full controls
Stock Number: - 11076 -

Click to Enlarge
* #100 Ton Minster PM3 * #1000 Ton Danly Press . Model# SE4-1000 * #1000 Ton Danly SE4-1000-108-84 * #1000 Ton U.S.I Clearing 4-Point Straight Side Presses * #300 TON MINSTER HEAVY STAMPER *#600 TON MINSTER HEAVY STAMPER SSDC PRESS * #800 TON DANLY S4-800 * #800 TON WARCO PRESS * #SE2-600-120 x 60 CMC-BLISS PRESS * #USI -CLEARING 600 Ton *
Click for

New Listings

1500 ton Klockner Plastic Injection Molding Press (like new)


USI CLEARING 6-PRESS MECHANICAL PRESS LINE 1 x 1300-TON DOUBLE ACTION Press Plus 5 X 450-TON SINGLE ACTION Presses are part of this sale


3500 Ton HPM 4 POST Hydraulic Press -distressed sale price


5000 Ton Lake ERIE Triple Action Hydraulic Press


5000 Ton BLISS 4 POST Hydraulic Press at a liquidation price


660 ton PTC Straight Side Feed custom built press


1500 Ton SAVAGE Traveling Gantry Straightening Press


800 ton Danly straight side 4 point presses (5 ea) for sale


8000 Ton AP&T Hydroforming frame Press -like new


2000 Ton HPM used Hydraulic Press at great price.
Newest listings of major brand parts stamping and forming hydraulic presses include the following:

750 ton Hydraulic Gap Frame rare straightening press and all supporting press equipment

500 Ton Baldwin 6-Post Up-Acting Hydraulic Rubber Press

USED KOMATSU MODEL C2S-2000-3TR 2,000 TON STRAIGHT-SIDE TRANSFER PRESS

500 Ton Columbia Hydraulic up acting hot oil plywood press

This 1963 1400 ton ERFURT eccentric straight side press is part of a complete forging press line offered for sale
Unique opportunity to own 5 complete working automotive industry presslines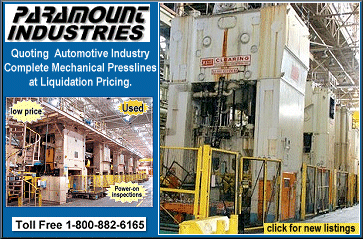 Paramount Industrial Sales offers fee based services ranging from expert appraisels, auctioneering, plant liquidations, retrofitting, transporting and onsite rigging through our industry alliance members. Machine Brokers Alliance (MBA) members will have access to post here their want to buy or sell machinery lists and streamline transactions and communications between resellers- brokers- manufacturers- and industry specialists.

Click here to view details on this 660 ton PTC Straight Side Feed custom built press

PTC Straight Side Press specifications:
660 Ton total capacity
Press type: Straight Side Eccentric Gear
2 Suspension points
STROKE = 18" Adjustment of RAM = 12"
SHUT Height over Bolster (SDAU) = 42"
Opening through Columns = 70"
Ram Face area = 144" x 60"
Bolster Size 144" x 60" x 9"
Speed = variable 15-45 SPM
Full Work energy at 15 SPM = 370 inch tons
Single stroking Speed = 15 SPM
Est weight of Press = 265,000 lbs
Main Motor size = 100HP

586-779-2267

sales@EquipBrokers.com
Buyers Agent helpline: 1-800-882-6165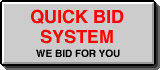 Offer To Purchase Agreement | Listing & Brokerage Agreement | Information Request Form | Want To Purchase