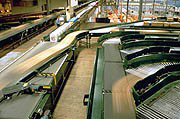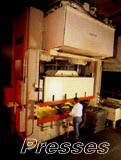 Paramount Industries invites you to browse through our -FREE- machinery listings. This section offers buyers and sellers a chance to post classified Ads and even generate auction type bidding to over 11,000 affiliate linked web sites. We are building our PREMIER LISTING Service to offer you much more detail on all listed items. EquipBrokers.com will also be installing a "Buyer Agent" purchasing service that can assist you in all phases of capital equipment purchasing. All your RFQs are broadcasted to our (MBA) Machinery Brokers Alliance members. This database of machinery and industrial equipment will be searchable from this section.

Just click on the below image to view Ads or post your own

Summary of current Ads posted by our visitors are shown below
Webmasters and site owners can start their own FREE classified or auction Ads with the new E-page 2000 program and get exposure on 24,000 web sites.
See Join E-Page for great FREE auctions and classifieds!

USED Composite SMC and DMC Molding Machines
Paramount Industries Inc. now specializes in sales of used SMC or DMC composite plastic molding machinery, designed for use in plastic molding production plants. If your looking to save some money by purchasing used rubber molding, SMC or DMC systems, composite plastics, thermoset bulk molding and fiberglass laminating equipment. We sell and ship to industrial equipment buyers in the US, Canada, Mexico and worldwide. We also purchase or broker used plant press and metal fabricating equipment, and offer a variety of services from specific machinery searches to physical inspections and rigging. The below SMC and DMC presses and molding systems are available now through Paramount Industries Inc. Give us a call or fill in the e-mail request above.
1. 800mm Schmidt & Heinzman used SMC Machine -new in 1987
2. Finn & Fram 60" SMC Machine. New 1987 model -never used.
Click for

New Listings

1500 ton Klockner Plastic Injection Molding Press (like new)


3500 Ton HPM 4 POST Hydraulic Press -distressed sale price


5000 Ton Lake ERIE Triple Action Hydraulic Press


5000 Ton BLISS 4 POST Hydraulic Press at a liquidation price


1500 Ton SAVAGE Traveling Gantry Straightening Press


1500 Ton HPM Deep Draw 4 post hydraulic press for sale


8000 Ton AP&T Hydroforming frame Press -like new


2000 Ton HPM used Hydraulic Press at great price.

650 ton PACIFIC 4 post hydraulic press in excellent condition
We are pleased to offer this Pacific 650 ton 4 post hydraulic press in excellent working condition for immediate sale.
Year manufactured: 1994.....Model 650 CX 12/126

Bed & Ram Size: 144" rl x 126"fb Stroke: 86" .Daylight: 110"

Adjustable Tonnage via PLC operator interface.

Max open above Bolster: 114" and Min open is 28" above bolster

Equipped with Dual Rolling Bolsters front to back 4" thick Tee Slotted Bolster Top is 11" above floor

Base Sets 39" below floor level and has Max Height above floor = 275 3/8" or 22' 9" Approx Machine weight: 300,000 lbs and Condition is very Good and ready for production
Paramount offers fee based services ranging from expert appraisels, auctioneering, plant liquidations, retrofitting, transporting and onsite rigging through our industry alliance members. Machine Brokers Alliance (MBA) members will have access to post here their want to buy or sell machinery lists and streamline transactions and communications between resellers- brokers- manufacturers- and industry specialists.

Click here to view details on this 660 ton PTC Straight Side Feed custom built press

PTC Straight Side Press specifications:
660 Ton total capacity
Press type: Straight Side Eccentric Gear
2 Suspension points
STROKE = 18" Adjustment of RAM = 12"
SHUT Height over Bolster (SDAU) = 42"
Opening through Columns = 70"
Ram Face area = 144" x 60"
Bolster Size 144" x 60" x 9"
Speed = variable 15-45 SPM
Full Work energy at 15 SPM = 370 inch tons
Single stroking Speed = 15 SPM
Est weight of Press = 265,000 lbs
Main Motor size = 100HP
Click for

New Listings
Aircraft Engine Cradles
Aircraft Loading Hoists
Belt Conveyor Systems
Boat Cradles
Boat Lifts
Bomb Trucks
Bucket Type Conveyor Systems
Cars, Industrial
Compressors, Air & Gas
Cranes, Mobile Industrial
Cylinders, Pump
Docks, Loading
Domestic Water Pumps
Drum Cradles
Engine Stands
Forklift Trucks
Gas Turbines
Hopper, End Dump
Hydrojet Marine Engine Units
Hydraulic Turbines
Industrial Truck Cranes
Lift Truck, Industrial
Mine Conveyors
Milling Machines
Mobile Straddle Carriers
Monorail Systems
Overhead Conveyor Systems
Paint Sprayers

Pallet Loaders & Unloaders
Palletizers & Depalletizers
Passenger Baggage Loaders
Pneumatic Tube Conveyors
Pumps, General Industrial
Pumps, Oil Well & Oil Field
Pump Jacks
Ramps, Aircraft Loading
Robotic Conveyor Systems
Robots For Spraying
Skid Boxes, Metal
Solar Turbine Gen-Sets
Stackers, Power
Stamping Presses
Steam Engines
Steam Turbines
Tank Turbines
Tractors, Industrial
Truck Trailers For Plant Use
Trucks, Industrial
Tunnel Kiln Cars
Turbine Gen-Set Units
Turbines, Aircraft Type
Turbogenerators
Vacuum Pumps
Water Turbines
Wind Power Turbine Gen-Sets
Construction equipment
Deluxe Photo listings
Simple "Want to buy" Ads
Offer To Purchase Agreement | Listing & Brokerage Agreement | Information Request Form | Mfgr links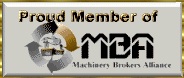 all rights reserved by Paramount Industries -06/09/99

site designs by webmaster Image Marketing Services