Paramount Industries specializes in new and used metal working machinery for all types of industrial applications. This site, and all our personalized services, address the needs of both buyers and sellers of used plant production equipment. Buyers worldwide can browse our hydraulic and merchanical press equipment listings, classifieds and auction items. You can arrange a direct purchase or post an offer with Paramount acting as your "buyers agent". Visitors can post free "want to buy/sell" classified Ads that are searchable from over 18,000 sites. Foreign Language tools are available for browsing these pages. Over the last 20 years our clients have securely purchased used industrial production equipment and have these bargains shipped to USA cities, Canada, Mexico, India, Europe and South America. We welcome overseas purchasing customers needing a knowlegeable local buyers agent.

23 Hydraulic Compression Molding Presses from 500 ton to 2500 ton for sale at liquidation prices. (Shelbyville Indiana auto parts plant)
Unique opportunity to own 5 complete working automotive industry presslines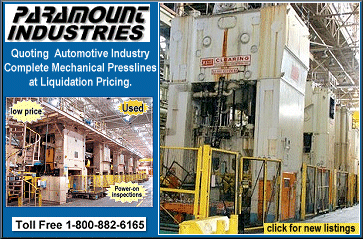 A major automobile manufacturer has contracted with Paramount Industries to liquidate all, or partial lots of one of their local Detroit production plants. Power-on inspections now taking place for 10 major presslines of varying capacities and all miscellaneous metal stamping equipment. This is a once in a lifetime opportunity to buy well maintained working metal stamping presses for pennies on a dollar invested. Click here to see all this automotive plant liquidation listings, photos and spec sheets.