We are pleased to offer these PTC Straight Side Feed progressive stamping press:
These are brand new custom built 660 ton presses and are priced FOB Ontario Canada. Contact Paramount Industries for price quotes on standard or special configurations on these build to order straight side mechanical stamping presses. Call for pricing and delivery options.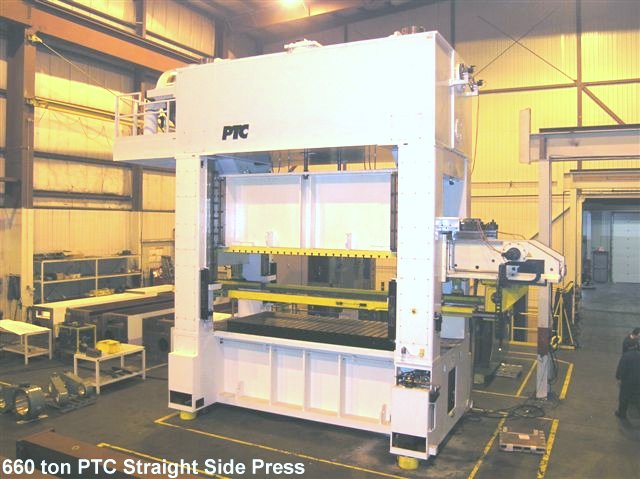 Each PTC 660 ton press has the following features:
Herion Hydraulic Overload Hydraulic Tie Rod Nuts * Ortlinghaus Air Clutch/Brake * 'T' Slots in Ram and Bolster Face * Keyway in Bolster (1" wide x ½" deep) * Tonnage Monitor 4 channel *Die Protection 8 inputs *(2) Sets of Light Curtains 36" vertical * (2) Sets of Light Curtains 6" horizontal * OmniLink 5000 Press Controller and more....
PTC Straight Side Press specifications:
660 Ton total capacity
Press type: Straight Side Eccentric Gear
2 Suspension points
STROKE = 18" Adjustment of RAM = 12"
SHUT Height over Bolster (SDAU) = 42"
Opening through Columns = 70"
Ram Face area = 144" x 60"
Bolster Size 144" x 60" x 9"
Speed = variable 15-45 SPM
Full Work energy at 15 SPM = 370 inch tons
Single stroking Speed = 15 SPM
Est weight of Press = 265,000 lbs
Main Motor size = 100HP
Call Ted Gillespie at (800) 882-6165 for Pricing and complete specifications, photos and options on this brand new metal stamping press. Use the below e-mail form to also receive immediate followup, quote, or questions.
CONTACT
SELLER
Please fill in below form info and submit only once

Paramount Industries has partnered with Tech Machinery Inc. and Otoole Press for over 20 years to help industrial Equipment Buyers locate, purchase and arrange delivery on the best buys in used Hydraulic stamping presses, CNC centers, milling and routing systems for the metal working industry. We are a trusted source that knows true value in this highly specialized market. Please e-mail Ted Gillespie for complete details and pricing on the above listings or a complete fax list of available presses. Act now before it's gone!
---
Newest listings from EquipBrokers.com and Paramount Industries include ERIE and K.R.Wilson 4 post hydraulic presses ranging from 176 tons to over 4000 ton capacities.
Click for

New Listings

1500 ton Klockner Plastic Injection Molding Press (like new)


3500 Ton HPM 4 POST Hydraulic Press -distressed sale price


5000 Ton Lake ERIE Triple Action Hydraulic Press


5000 Ton BLISS 4 POST Hydraulic Press at a liquidation price


1500 Ton SAVAGE Traveling Gantry Straightening Press


1500 Ton HPM Deep Draw 4 post hydraulic press for sale


2000 Ton HPM used Hydraulic Press at great price.
Newest listings of major brand parts stamping and forming hydraulic presses include the following:

750 ton Hydraulic Gap Frame rare straightening press and all supporting press equipment

500 Ton Baldwin 6-Post Up-Acting Hydraulic Rubber Press

USED KOMATSU MODEL C2S-2000-3TR 2,000 TON STRAIGHT-SIDE TRANSFER PRESS

500 Ton Columbia Hydraulic up acting hot oil plywood press

This 1963 1400 ton ERFURT eccentric straight side press is part of a complete forging press line offered for sale
Sellers wanted: Click here to E-Mail us your surplus equipment list or call and fax us as we are alway purchasing used industrial product plant equipment for resale to domestic and overseas clients. Below you'll find some newly pruchased presses available for immediate delivery. Through our MBA Member services we can offer value added equipment services like rigging - domestic and overseas freight delivery -machine retro fitting -hydraulic and electrical control services and finance/leasing arrangements.
USED Composite SMC and DMC Molding Machines
Paramount Industries Inc. now specializes in sales of used SMC or DMC composite plastic molding machinery, designed for use in plastic molding production plants. If your looking to save some money by purchasing used rubber molding, SMC or DMC systems, composite plastics, thermoset bulk molding and fiberglass laminating equipment. We sell and ship to industrial equipment buyers in the US, Canada, Mexico and worldwide. We also purchase or broker used plant press and metal fabricating equipment, and offer a variety of services from specific machinery searches to physical inspections and rigging. The below SMC and DMC presses and molding systems are available now through Paramount Industries Inc. Give us a call or fill in the e-mail request above.
1. 800mm Schmidt & Heinzman used SMC Machine -new in 1987
2. Finn & Fram 60" SMC Machine. New 1987 model -never used.
Newest listings from TechMachinery.com include ERIE and K.R.Wilson 4 post hydraulic presses ranging from 176 tons to over 4000 ton capacities. Take a look at these and save your plant some real money as these will be re-sold at liquidation prices. Immediately available!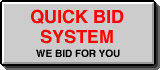 Additional heavy duty stamping presses we can offer for immediate purchase...see below.. or call for fax list!


Offer To Purchase Agreement | Listing & Brokerage Agreement | Information Request Form | Want To Purchase