For Sale over 400 used Industrial assembly Kuka Robots with CNC controllers for all types of auto parts manufacturing applications. We are liquidating these versatile Robots at a great price and they have multiple uses in most modern manufacturing plants.
We are pleased to offer for immediate sale these

German

made

KUKA 6 Axis CNC Robots with

complete electronic

controllers, which are to be sold in units of 6. Call Ted Gillespie at

this toll free phone number

1-800-882-6165

for

robot individual or group pricing

and shipping quotes to

Major

Cities worldwide.

Fully

Programable CNC contollers are included with each

assembly line Robot arm and Ted Gillespie can furnish more Kuka programmable Robot specifications and arrange Robot inspections at the Shreveport La. warehouse.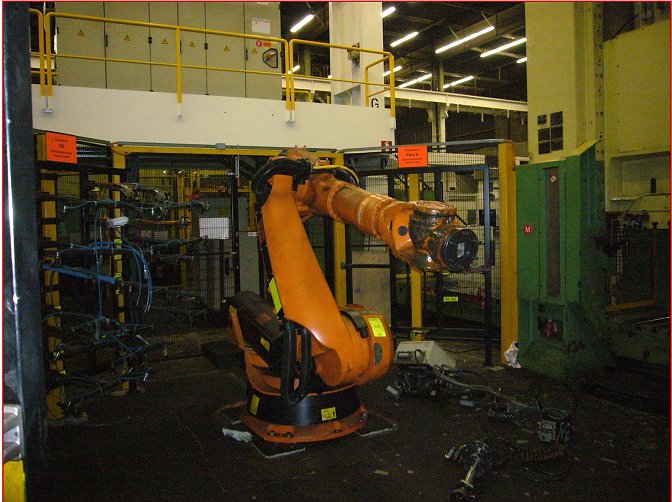 Used KUKA German Automotive Industrial assembly Robots with programmable CNC controllers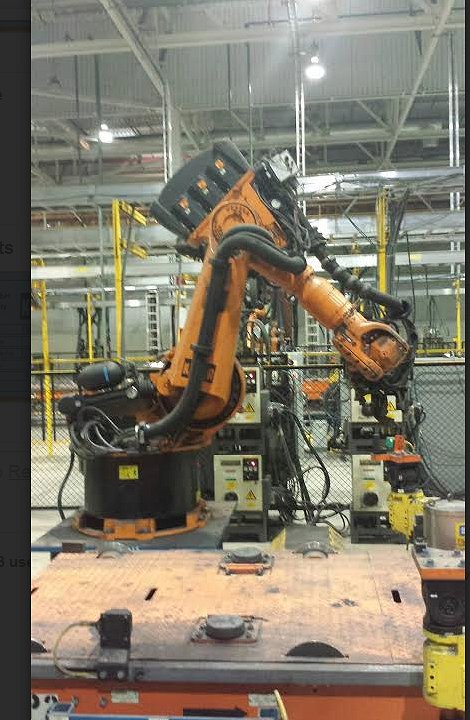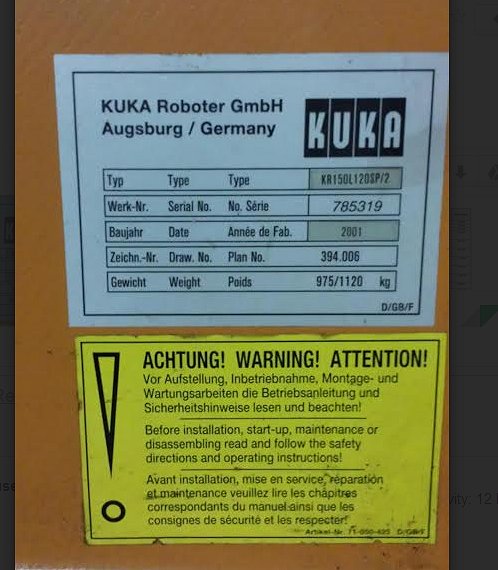 Large Liquidation Now in Process Over 400 units available of Kuka 6 axis CNC Industrial Robots ....The Kuka 6 Axis CNC Robots for sale price in groups of 6 or more, complete with all CNC controls. The condition good as removed from service, includes packing and loading to truck our warehouse Shreveport La. Click here for a complete excel spreedsheet on each Kuka Robot with specifications, model,accessories and location in our warehouse. Kuka Robots complete list in a .pdf format ... Click HERE!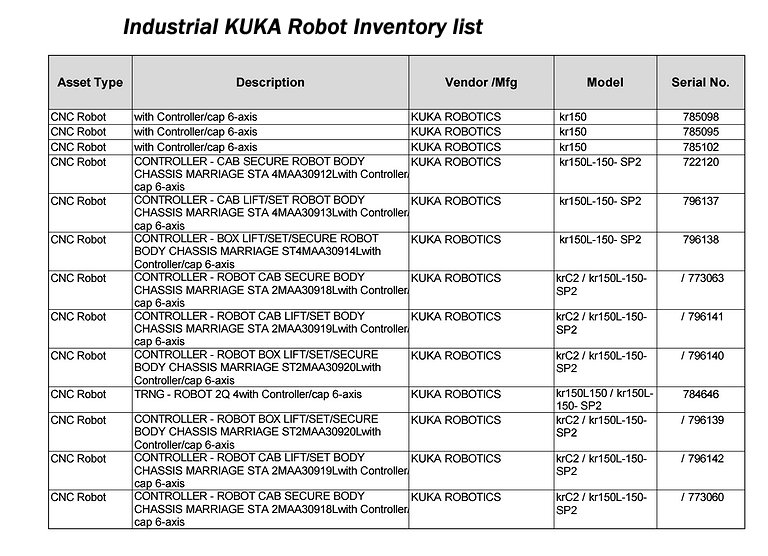 Paramount Industries has over 300 of these Kuka Industrial 6 axis Robots for immediate sale at liquidation prices. Below is a list of Kuka KR150L-150 6 axis robots with various models of KRC2 MP5 controllers and KRC1 Teach Pendant HA060R6 and kr200 SP2 robots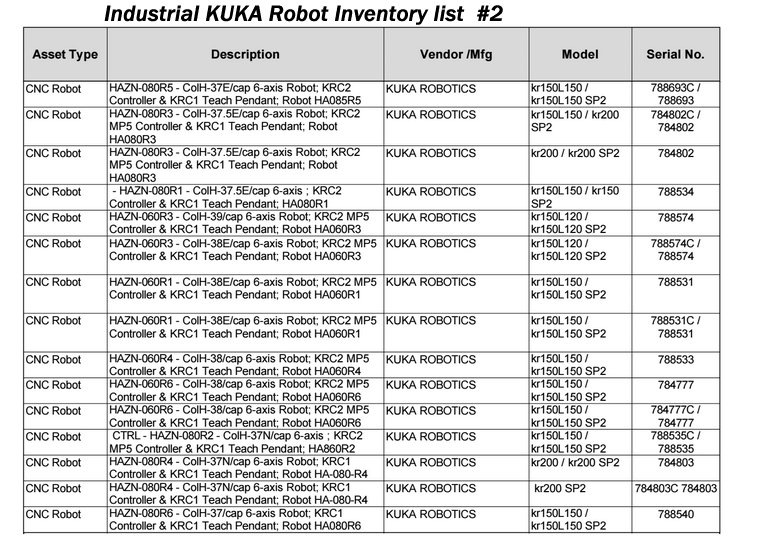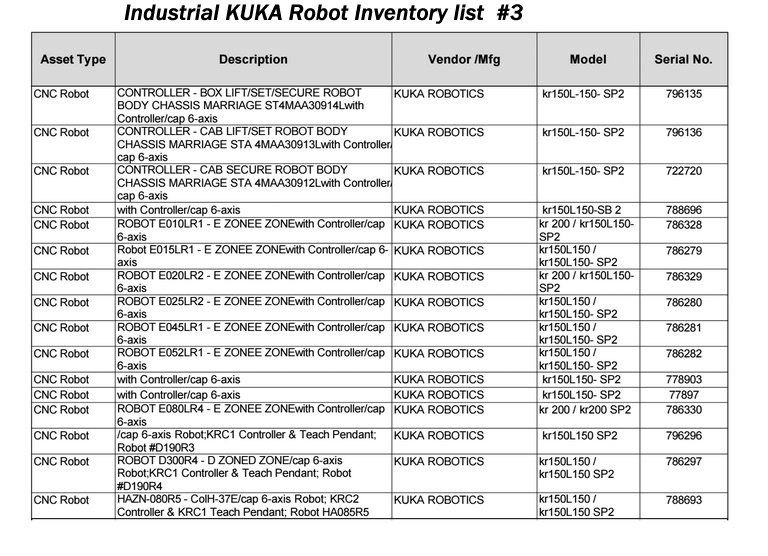 Kuka German made 6 axis Assembly line robtos with full CNC controls for sale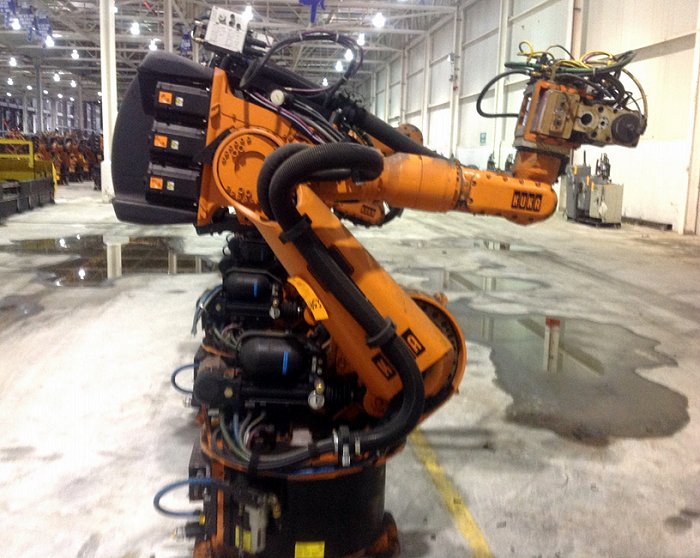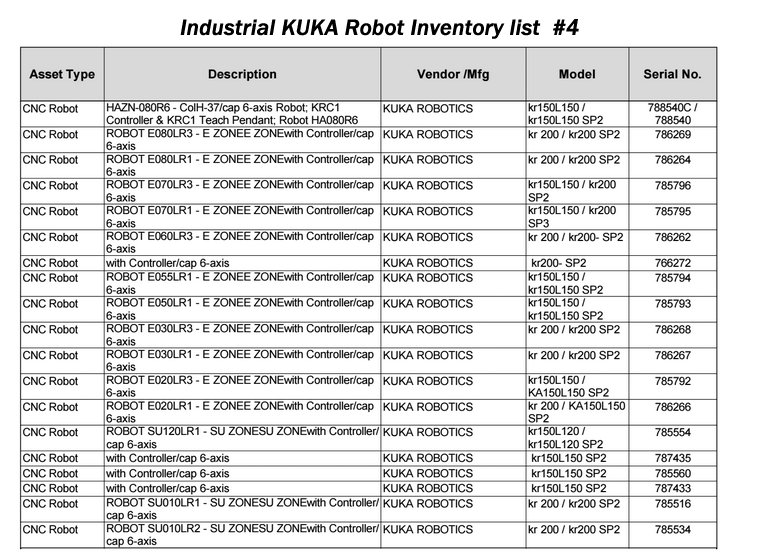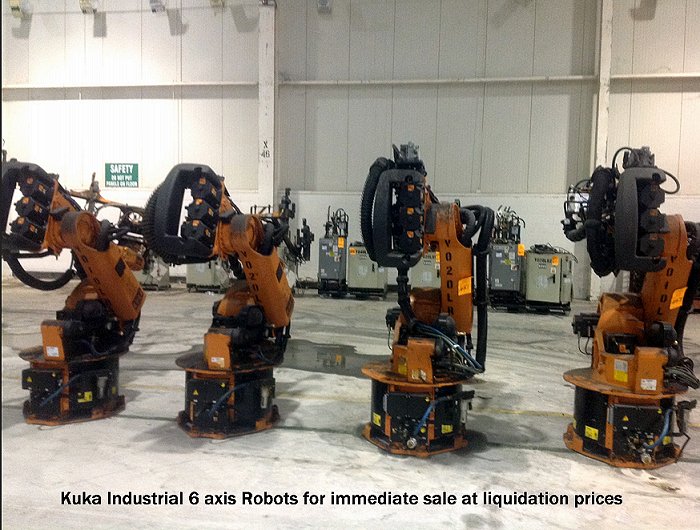 We have over 400 of the Kuka CNC programmable Robotic arms with all types of assembly line uses.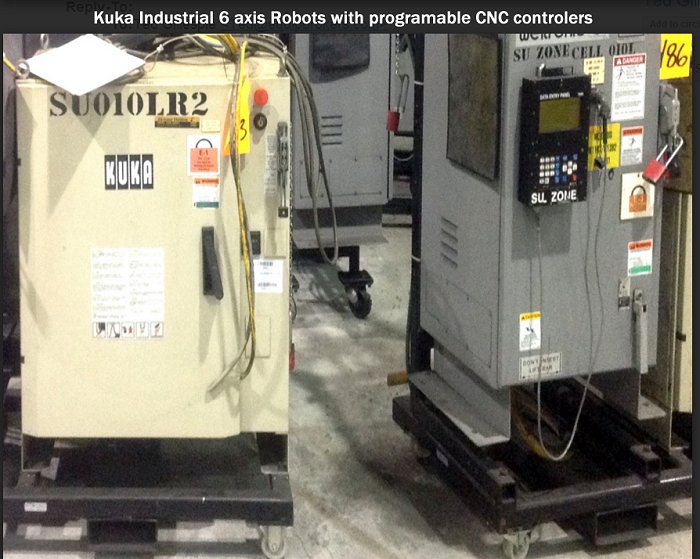 Each Kuka priogrammable Robot has matching CNC controls for all types of Robotic uses.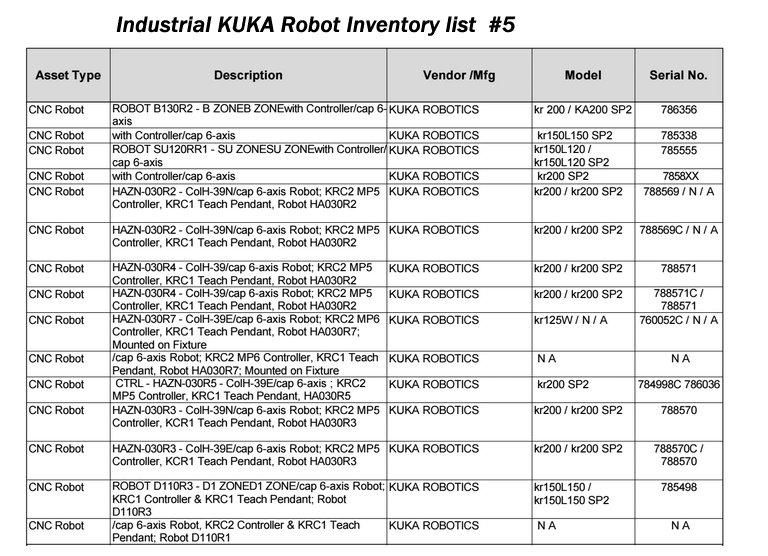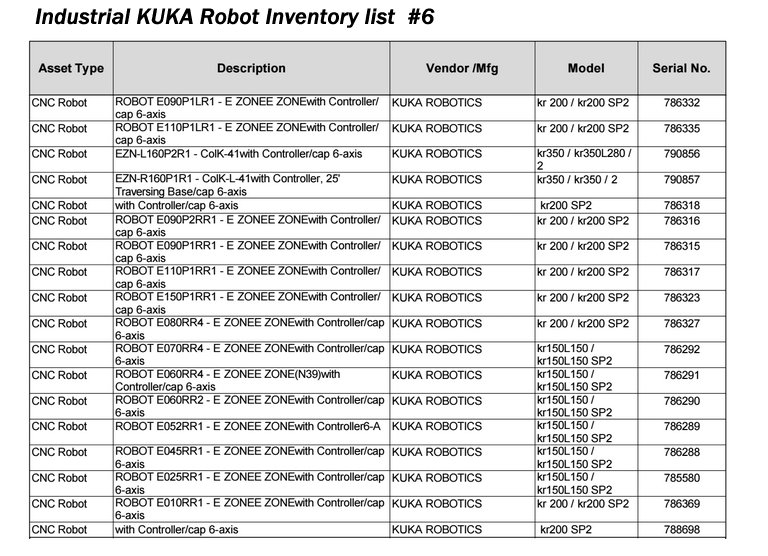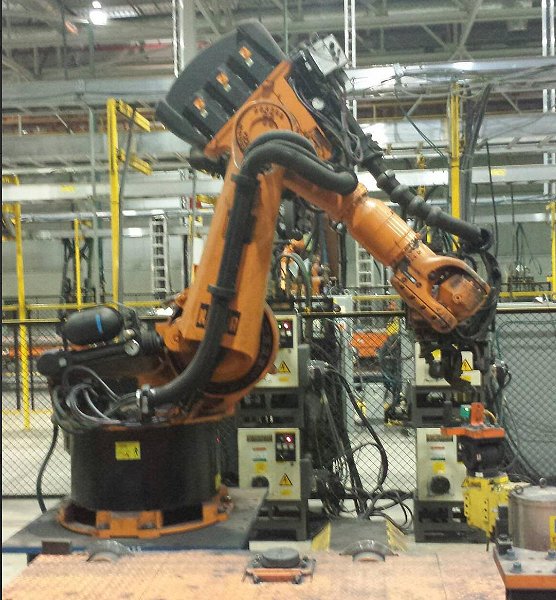 The Kuka 6 Axis CNC Robots are for sale price in groups of 6 or more, complete with all CNC controls. The condition good as removed from service and includes professional packing and loading on to your truck at the warehouse located in Shreveport La.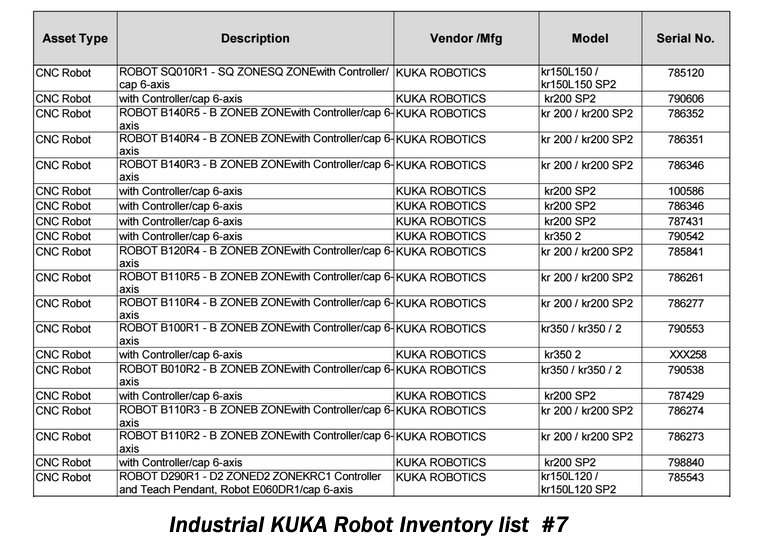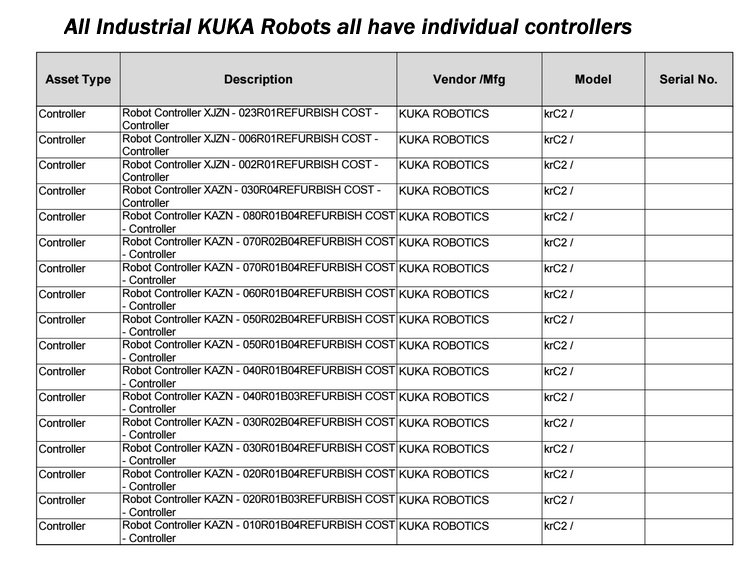 Call Ted Gillespie at this toll free phone number 1-800-882-6165 for Kuka robot individual or group pricing and shipping quotes to Major Cities worldwide.
Unique opportunity to own 5 complete working Big 3 automotive industry presslines available due to stamping plant closing in Detroit Michigan.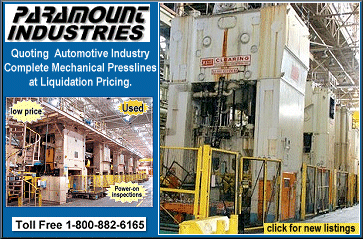 A major automobile manufacturer has contracted with Paramount Industries to liquidate all, or partial lots of one of their local Detroit production plants. Power-on inspections now taking place for 10 major presslines of varying capacities and all miscellaneous metal stamping equipment. This is a once in a lifetime opportunity to buy well maintained working metal stamping presses for pennies on a dollar invested. Click here to see all this automotive plant liquidation listings, photos and spec sheets.

Grabill Indiana Compression Molding plant liquidation sale on ERIE, French Oil, Hepburne and Williams & White compression molding presses ranging from 400 to 4450 ton capacities. Also HPM Injection Molding presses for immediate sale on same page.
Click for

New Listings

1500 ton Klockner Plastic Injection Molding Press (like new)


3500 Ton HPM 4 POST Hydraulic Press -distressed sale price


5000 Ton Lake ERIE Triple Action Hydraulic Press


5000 Ton BLISS 4 POST Hydraulic Press at a liquidation price


660 ton PTC Straight Side Feed custom built press


1500 Ton SAVAGE Traveling Gantry Straightening Press


800 ton Danly straight side 4 point presses (5 ea) for sale


8000 Ton AP&T Hydroforming frame Press -like new


2000 Ton HPM used Hydraulic Press at great price.
Buyers Agent helpline: 1-800-882-6165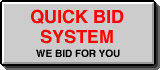 Offer To Purchase Agreement | Listing & Brokerage Agreement | Information Request Form | Want To Purchase