The following is a hierarchical listing of all the pages at EquipBrokers.com that can be reached by following links from our home page "index.html". Page titles are displayed as they are added to this web site. Bookmark this location as we build upon this project. Enjoy your visit and request information here. Navigation aids are used throughout the site !
Quick Sitemap
---

This navagation bar is at the bottom of each page
USED Composite SMC and DMC Molding Machines
Paramount Industries Inc. now specializes in sales of used SMC or DMC composite plastic molding machinery, designed for use in plastic molding production plants. If your looking to save some money by purchasing used rubber molding, SMC or DMC systems, composite plastics, thermoset bulk molding and fiberglass laminating equipment. We sell and ship to industrial equipment buyers in the US, Canada, Mexico and worldwide. We also purchase or broker used plant press and metal fabricating equipment, and offer a variety of services from specific machinery searches to physical inspections and rigging. The below SMC and DMC presses and molding systems are available now through Paramount Industries Inc. Give us a call or fill in the e-mail request above.
1. 800mm Schmidt & Heinzman used SMC Machine -new in 1987
2. Finn & Fram 60" SMC Machine. New 1987 model -never used.
Rubber Compound Molding Presses
Just on the market: 1250 Ton KTM-NORAMEX Rubber molding press... click here to see the full details on this production molding press
* #100 Ton Minster PM3 * #1000 Ton Danly Press . Model# SE4-1000 * #1000 Ton Danly SE4-1000-108-84 * #1000 Ton U.S.I Clearing 4-Point Straight Side Presses * #300 TON MINSTER HEAVY STAMPER *#600 TON MINSTER HEAVY STAMPER SSDC PRESS * #800 TON DANLY S4-800 * #800 TON WARCO PRESS * #SE2-600-120 x 60 CMC-BLISS PRESS * #USI -CLEARING 600 Ton *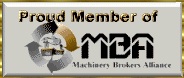 all rights reserved by Paramount Industries -08/21/12

site designs by webmaster Image Marketing Services
Copyright © 1999 By Paramount Industries. Revised: August 21, 2012.